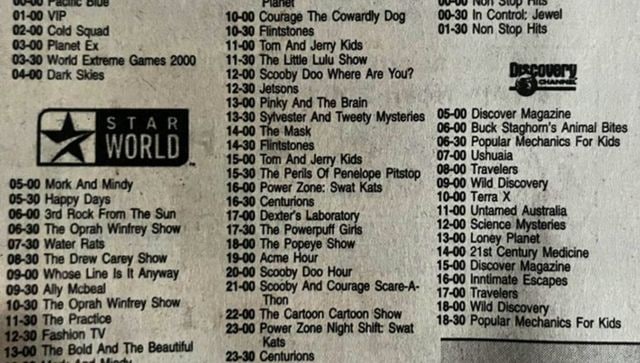 Newspaper clipping from Cartoon Network's 2001 shows schedule makes the internet nostalgic. Twitter @priyankathiru
The introduction of social media and online video streaming platforms has significantly reduced the importance of television. With technology reaching new heights day by day, television has become nothing more than a screen displaying internet-driven content. Since nearly all channels are now accessible digitally, cable networks have become an old chapter. However, it's still a nostalgia for 90s kids. Such a person who grew up in that era shared a newspaper clipping from the year 2001 on Twitter. The photograph depicts a list of shows that different children's channels such as Cartoon Network and Discovery air all day.
Nowadays, the internet has made it easier to stream any type of entertainment show at any time on a variety of OTT platforms. But, when smartphones didn't arrive, therefore an internet connection, people, especially children, had to follow the newspaper to get to know the schedule for a day of shows.
Cartoon Network has always been a major attraction for children thanks to its popular programs such as Tom and Jerry, Sylvester and Tweety, Dexter's Laboratory, Powerpuff Girls and The Flintstones, among others. They were eagerly waiting to come back from school and enjoy their favorite animated series on the television screen.
Coming to the new viral post, the day would start with Scooby Doo Movies with the telecast starting at 5am. Then, there were a number of classic shows lined up including Batman- The Animated Series, The New Adventures of Captain Planet, Courage- The Cowardly Dog, Pinky and The Brain and many more. The post's caption reads: "Here's what a perfect day looked like in 2001."
The Twitter post certainly generated quite a stir among social media users. A number of users, reminiscing about their childhood days, have marked their presence in the comment section.
One user recalled, "Prior to the 2000s, CN would finish at 9pm with Popeye as the last show at 8:30, after which a TNT bomb would go off on the screen to end the cartoons for the night. After 21:00, there were black and white English songs or movies.
Another person swore, "it was a ritual to see this column to spot times or repeat my favorite show."
One individual revealed: "It brought back memories for me. There was a time when TNT and the cartoon networks had to share time. TNT from 21:00 to 6:00 and the rest for CN. He took me down memory lane.
Here are some other notable reactions:
Since appearing on the Internet, the post has garnered more than 75,000 likes on the microblogging site so far. Are you a 90s kid? What was your favorite Cartoon Network show?
Read all the Latest news, Trending news, Cricket News, Bollywood News,
News from India and Entertainment news here. Follow us on Facebook, Chirping and Instagram.